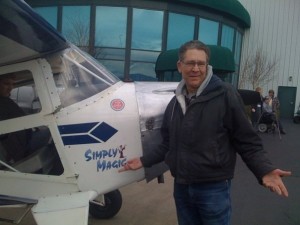 Bill's Tcraft – Simply Magic
Please help us find a good home for Bill's Taylorcraft.  We have a unique opportunity to move up to an 85-hp Tcraft.  Though we love this little airplane, it's time for us to move on.
1946 Taylorcraft BC-12D
This is a GREAT little bird.  The C-65 starts on the first pull every time and purrs like a kitten.
All logs since new
ADs current
hangared
oil changed ea 20 hrs
2670 TT
320 since major repair
Compressions 80, 78, 76, 79
Metal prop
Handheld radio & 2-pl intercom
2 wing tanks + nose tank– 24 gal fuel!
reliable 4.5gal/hr
flies straight & true
Auto gas STC
2 sets doors – both stock & cutout
Qualifies as LSA
Steve's Aircraft gascolator
Slick mags
dual brakes
Located in Medford, Oregon (KMFR)
$16,000  Email dirtstrip@tcaero.com.