The original intention for this site was to honor the memory of our friend Bill Warren, aka Sky Billy.  As we sorted through the photos and memorabilia from his life, we realized there is a significant historical element which needs to be addressed here also.
For instance, a simple Google search for "Great American Flying Circus" returned 2 or 3 relevant links.  The men and women who made up the GAFC landed an airplane on a car and walked on airplane wings.  Ronn Dilling, their stunt man, regularly performed an in-air transfer from one plane to another – Now That's Incredible!
Bill flew with Jessie Woods, a pioneering wingwalker and stuntwoman from the 1920's barnstorming era.
He performed before millions of spectators in airshows across the country, blowing smoke, carrying wingwalkers, and showering them with pyrotechnics.
As a flight instructor, Bill taught countless students to fly the real way – by the seat of their pants.
This is exciting to m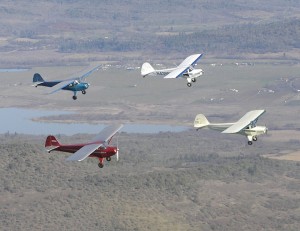 e.  I want to know more!  How did Jessie Woods decide to be a stuntwoman?  How many other people were part of this GAFC?  Who were those Daring Damsels in the airshows?  Where are the pictures and stories for all of the children and grandchildren of these aviators?
We thought we knew Bill well, but continue to be amazed by how many people he has touched in his life.
Perhaps you have been inspired by a true aviator.  Maybe your father, aunt or uncle flew with one years ago.  There are fond memories and great aviation stories out there, just waiting to be shared.
It is our hope this website will serve and honor the aviation talent and pioneering efforts of all the aviators posted here.
Bill's Final Hangar Party Video   (enter password "Skybilly2")
SPECIAL: Bill Warren – 1946-2011