Category:
Jessie Woods
Jessie Woods, pioneer wingwalker with the Flying Aces
Permanent link to this article: http://skybilly.com/jessie-woods-in-brian-lansburghs-cub/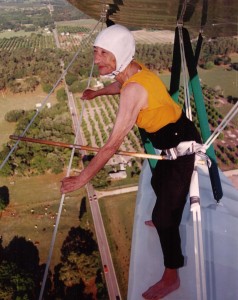 This is a picture Brian Lansburgh shot of Jessie Woods on the occasion of her last wing walk over Lakeland Florida. She's on Steve Oliver's New Standard D-25. Steve's flying and his wife, Susanne is counterbalancing on the other wing. Just look at the grin on her face!
Permanent link to this article: http://skybilly.com/jessie-woods-last-wing-walk/